As a company who consider ethics and community an important part of our ethos, we turn our attention in this post to cars for the blind, in order to help to raise awareness of this user group. As Jennie Small (2013: 942) once said "
"People with impairments" have a condition that affects the function of their bodies but it is the disabling nature of socially constructed barriers that transforms them into "a person with disability"
Indeed, if there is a way in which we can help those with visibility conditions including blindness to be able to gain more freedom and independence, this surely is a wonderful thing. The great news is that experiments are under way to try and design a driver-less car that can specifically be used by blind people and those with severe sight issues. The news is that pods are presently being designed and tested and are fast advancing.
Project Insight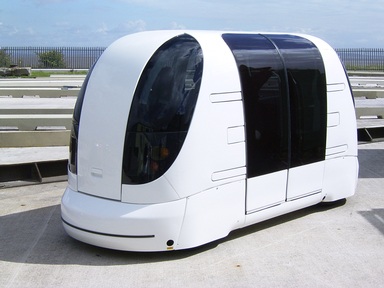 One recent project that is putting attention on driver-less cars for the blind is the 'Project Insight', a project which Birmingham University's Sustainable Development team are heavily involved with. The driverless pod car actually looks nothing like the Google driveless cars that have been developed over the last 2 years, this vehicle literally pod looking as you can see above. The POD uses a number of sensors and 3-d imaging technology to move safely through walkable areas.
The POD system is still in its early stages though and it could be a long time before such vehicles are able to be developed for the blind, that use open roads. The POD system is also quite different from the Heathrow PODs given that the Heathrow PODs move on exact tracks, much like children's fairground rides one might say.
Speed of Sight
Another thing certainly worth bringing up in talking of the blind and driving, a simply wonderful and very successful experience for blind people takes place at a variety of venues and goes by the name of "Speed of Sight". This charity provide driving experiences for the blind and is a project that I urge you all to get behind if you have the opportunity.

The chance for those who might never ever have the opportunity to have a driving license because of their eye-sight getting the chance to experience high speed drives . You can visit Speed if Sight via: www.speedofsight.org/